The M4 continues its reign in Warzone 2.0being a popular assault rifle choice for many players.
Thanks to its strong base stats and wide attachment availability, it's a versatile choice in Warzone 2.0, making the weapon a perfect fit for almost any situation.
To save you time whilst you're out getting dubs in Al Mazrah, we've prepared this explainer to equip you with the best Warzone M4 loadout and build to extract the most out of the weapon.
On this page:
How to unlock the M4 in Warzone 2.0
The M4 is available right away in Warzone 2.0 Battle Royale, but you still need to reach level 4 to unlock custom loadoutswhich will then allow you to manually equip and customize a loadout for the M4.
The M4 is the first weapon in the 'M4 Platform' progression tree – by using and leveling the weapon, you'll be able to unlock additional weapons and attachments such as the M16.
To access and use your custom loadout during Battle Royale matches however, you'll need to find a Loadout Drop in matches – either through Stronghold objectives or standard drops called out as an in-match event.
It's worth noting that if you're jumping from Modern Warfare 2 to Warzone 2.0, your classes do not carry over – this means you have to build each class again for both Warzone 2.0 Battle Royale and DMZ respectively.
Warzone 2.0 M4 best loadout and attachments
Our picks for the best Warzone 2.0 M4 loadout and attachments are:
Optic: Cronen Mini Red Dot (Unlocks at FSS Hurricane Lv. 2) or Hybrid Firepoint (unlocked at Lachmann-762 Lv. 14)
Stock: Corio Precio Factory (Unlocks at M4 Lv. 7)
Rear Grip: Phantom Grip (Unlocks at FSS Hurricane Lv. 12)
Muzzle: Forge-Tac Castle Comp (Unlocks at 556 Icarus Lv. 10)
Barrel: Tempus Hightower 20″ Barrel (Unlocks at M4 Lv. 15)
It's worth noting that if you own the Vault Edition of Modern Warfare 2, you'll have access to the full suite of M4 Platform attachments, including some of the ones mentioned above, without the need to level any weapon.
The Cronen Mini Red Dot is a good – albeit basic – call that'll increase the weapon's precision with a clean and easy-to-use red dot sight.
An alternate option we'd recommend is the Hybrid Firepointan optic that has the ability to toggle between a standard, top-mounted reflex sight – much like the Cronen Mini Red Dot – and a 4.3x magnification-scope that will help for the naturally more-distant sightlines you'll run into during your time in Al Mazrah.
If you happen to find yourself wanting to lean fully into those longer-range encounters however, the Forge Tac Delta 4 is a good alternative thanks to its dedicated 4x zoom functionality.
For the M4's stock, we're going with the Corio Precio Factorygranting additional stability and recoil control, making shooting distant opponents an easier feat.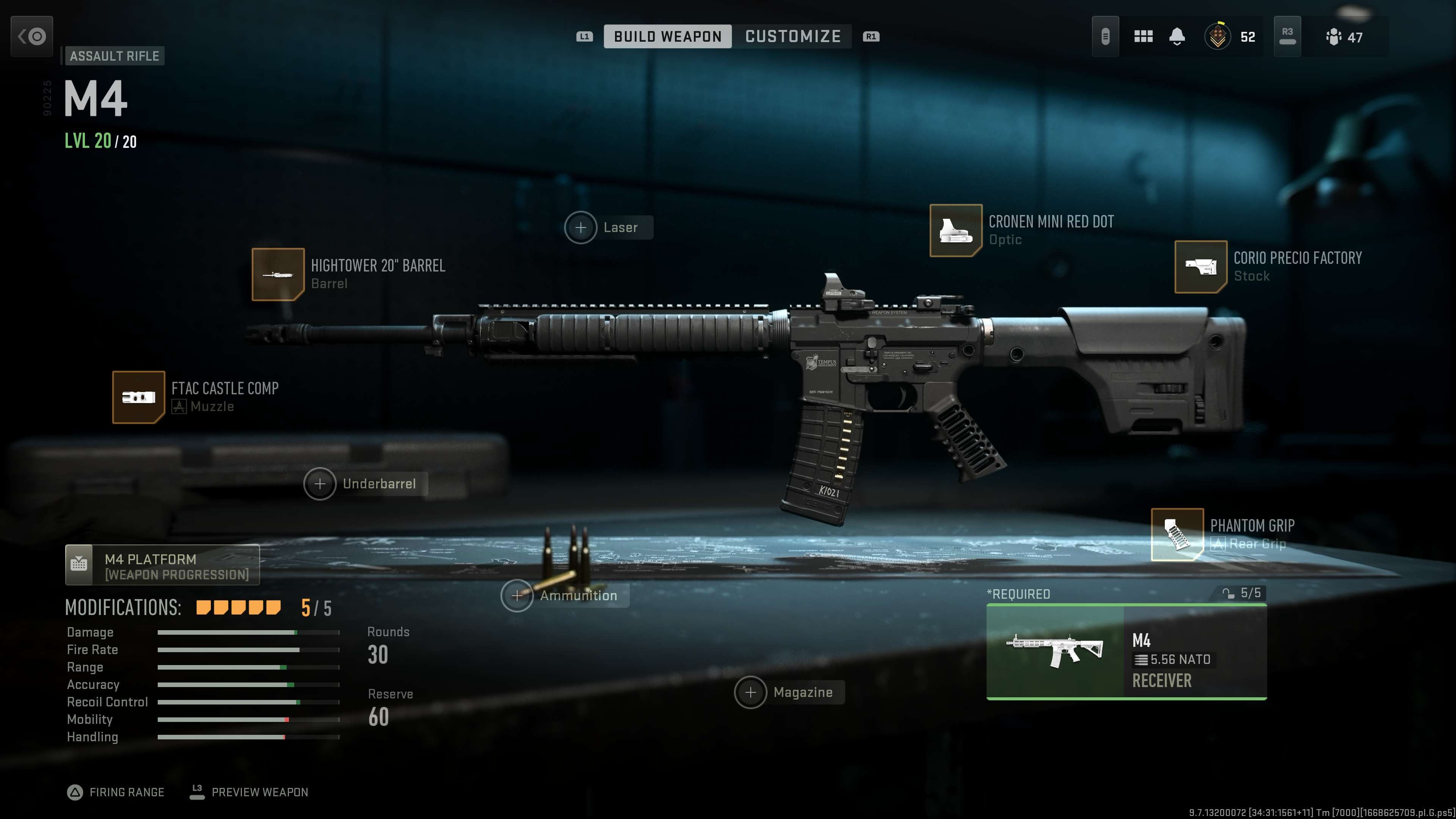 With the Phantom Grip, you'll get a boost to your Aim Down Sight speed and Sprint to Fire Speed. On the other hand, the Forge-Tac Castle Comp for the Muzzle attachment helps with recoil control and will assist in keeping the weapon steady.
As for the barrel, the Hightower 20″ Barrel is a good shout, making the gun fire faster whilst improving its Hip Fire Accuracy and overall damage range.
If you're looking to experiment further, bear in mind that attachments are unlocked by using various other weapons in Warzone 2.0, much like in Modern Warfare 2 – for example, the Corio RE-X Pro sight is unlocked across all compatible weapons by unlocking the .50 GS handgun at level 13, then leveling it to level 4.
As such, it's worth trying out multiple weapons to unlock as many attachments as possible, then tweaking as you see fit.
Additionally, once you fully level up a weapon, you'll gain access to the Weapon Tuning feature that will allow further, precise tweaking to the weapon's stats via its attachments – use this to enhance the weapon more specifically to your preferences.
---
The release of Warzone 2.0 is here! If you want to put together a strong arsenal, we explain how to forge a solid M4 loadout and M16 loadout. Elsewhere, we have explainers on Season 1 Battle Pass skins and blueprints as well as how to unlock Operators.

---
Warzone 2.0 M4 best class build, perk package, and equipment
Our picks for the best Warzone 2.0 M4 secondary, perk package and equipment are:
Perk Package: Commando (unlocked at Lv. 1)
Secondary: X13 Auto (unlocked at X12 Lv. 10)
tactical: Shock Stick (unlocked at Lv. 1)
Lethal: Frag Grenade (unlocked at Lv. 1)
For this loadout, we're going with the Commando Perk Packageconsisting of Scavenger, Strong Arm, Resupply, and High Alert.
With the necessity to hunt for ammo during matches, Scavenger is an almost essential perk here, particularly as you move in towards the center of each circle and eliminating enemies, as this perk will grant ammo pickups for each elimination.
Strong Arm perhaps isn't as essential as Scavenger, but it can still provide useful backup in regards to equipment usage, allowing you not only to throw your lethals and tactical grenades further, but also see a trajectory of where each one will land.
For the bonus and ultimate perks, the Commando perk package comes with Fast Hands and High Alert respectively.
The former of the two is best leans into more of a run-and-gun playstyle that will work well if you're moving across the map quickly, grabbing enemy Scavenger-provided ammo bags, whilst the latter will keep you in the know as to when you're spotted by another player, pulsing the side of the screen from which you've been seen.
The X13 Auto is a fast-firing handgun option that can be a handy backup when you need to reload the M4, or just for when moving through close-quarter areas.
If you haven't hit the X12's level 10 requirement to unlock the weapon yet, if you unlocked it during the beta, you'll have access to the 'Side Impact' blueprint variant bypassing the need to use the X12 first.
However, keep in mind that due to the nature of Battle Royale, you can always swap out this handgun option if you desire as the situation may call for a double primary or more demolition-focused approach.
As for your Tactical, the shock stick is a good tool for surprising enemies, but it can also be especially useful against vehicles since it has the ability to disable them – all in all it's an effective option for ambushing unsuspecting enemies.
When it comes to your lethal grenade, the frag grenade is a basic yet tried and tested option that pretty much will always be worth taking – pair it with the Shock Stick to surprise enemies, or use it simply as a tool to flush out buildings or damage vehicles with little protection.
Looking for suggestions from Modern Warfare 2 that might be worth a spin in Warzone 2.0? Our Modern Warfare 2 best guns page can help you decide what to try out next.

To see this content please enable targeting cookies.