The Specialized-owned inclusionary women's cycling clothing brand, Machines For Freedom, has announced it is being dissolved.
In an announcement on the Machines For Freedom Instagram page, founder Jenn Kriske broke the news: "It is with a heavy heart that I make this announcement. After eight incredible years, the difficult decision was made to shutter the Machines For Freedom brand."
The brand was founded in 2014 by Kriske following an inability to find cycling shorts that fit. In the years since it has been at the forefront of championing inclusivity within cycling and beyond.
It describes itself as a brand that "started out as a road cycling brand, making women's cycling clothing that challenges the status quo," and that nowadays it is "designed at the intersection of athleticism and femininity, Machines For Freedom brings its signature shape- inclusive fit and high-level of performance to riders everywhere."
When pressed for more information, cyclingnews received a longer statement that went further in thanking those who helped the brand through the years. In it, Kriske goes on to say she would "like to thank my amazing team of designers, creatives, marketers, and retailers for joining me on this journey, as well as my parent company for financial support over the years."
The parent company in question is the bicycle industry behemoth, Specialized.
Although Kriske lists her start of the brand as being August 2014, Specialized purchased Machines For Freedom in June 2018. A year later, in a medium post discussion "Cycling's Body Problem" Specialized made a point of saying the involvement from above is "hands- off and focused on giving Jenn all the tools she needs to thrive."
At the time the idea seemed to be one of mutual benefit and support from a large company with deep pockets. It would seem that five years later, things have changed.
The move also marks the continuation of change at the doors of the American company. At the end of 2022, Specialized cut ties with a large number of its ambassadors, marking a shift away from adventure and towards racing. Later, at the beginning of 2023, news broke that the company had laid off roughly 8% of its workforce. That came alongside news of Specialized's commitment to the $14.9m purchase of a new office building in Colorado.
When pressed for a statement after this latest headline, Specialized said: "Specialized will always be grateful to Machines For Freedom and the way it inspired the brand to reimagine how to better serve women riders. While dissolving the brand was a tough decision on both parties , the lessons learned during this partnership will continue to influence and guide the way Specialized makes women's product for the years to come."
Our subsequent questions, which include "Can Specialized further commit to inclusionary sizing for future Specialized clothing?" and "Is the decision directly related to profitability?" remain unanswered as of the time of publishing.
We will all have to make our own assumptions as we keep an eye on what the future brings.
There is something no one needs to guess about though. The shuttering of Machines For Freedom is a loss to our community no matter who you are. More people riding bikes is a goal that all of us can agree on and Machines For Freedom was a brand that furthered that goal.
"In my early days of cycling, I never understood why everyone seemingly loved to wear a kit – until I put one on that was designed with my body type in mind," recalls Marley Blonsky, Cofounder of All Bodies on Bikes and self-described 'Fat cyclist. Working to make the bike industry more inclusive'. "I now ride for and love Pearl Izumi, who has also moved into making more inclusive sizing. MFF was a game-changer and has helped so many folks feel included. Shuttering the brand is a huge loss."
Her story mimics dozens of similar anecdotes in the comments section of the aforementioned Instagram post, as well as other posts surrounding the topic.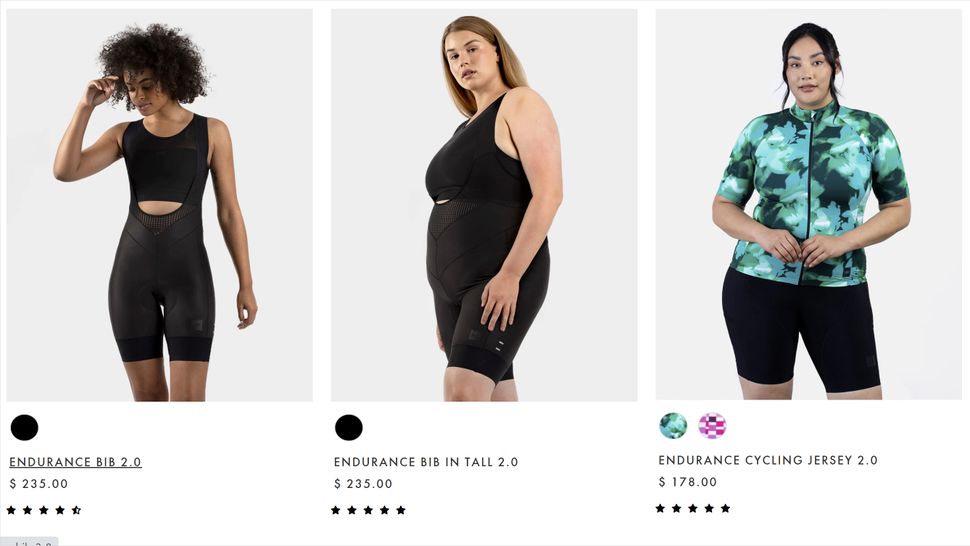 Specialized did a great service to the cycling community to support Machines For Freedom and size inclusivity, and it's a shame not to see a clear roadmap of how Specialized will honor that sentiment going forward in its core product lines.
The bottom line is that while it's unclear where Specialized will go from here and what the long-term plan is, Kriske has instigated change in the industry and today there are alternatives.
The bike industry is a rich tapestry of people and brands who have different perspectives. It would seem that Specialized is focusing on a traditional race-led vision for those that fit a specific mould. Meanwhile, Pearl Izumi marketing manager Rebecca Brough simply says, "Pearl Izumi proudly offers extended size ranges in cycling apparel" and the brand has a track record of backing that up with inclusion of all types.
There is still work to be done but the industry has evolved since 2013 when Jenn Kriske had to start a brand to find clothes that worked for her.
Our team at cyclingnews will continue to look for options that work for everyone and share them with you. If you believe in the importance of representation, find the brands that offer options for you and support them.
Follow Josh Ross on Twitter (opens in new tab)