Apple released the second beta of iOS 16.3 earlier this week, and so far only one new feature and two other minor changes have been discovered in the software update. It's possible that iOS 16.3 will also include various bug fixes and security updates.

iOS 16.3 should be publicly released within the next month or so, and it is possible that more features will be added in later beta versions. In the meantime, we have provided additional details about the three changes discovered so far below.
Security Keys for Apple IDs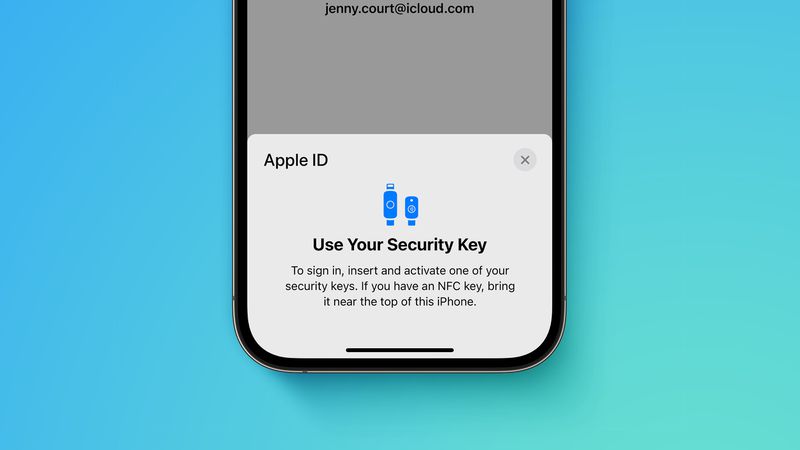 The first iOS 16.3 beta enabled a new Security Keys for Apple ID feature that Apple said will be available globally in early 2023. The feature gives users the option to use hardware security keys to further protect their account. For users who enable this feature, Security Keys strengthens Apple's two-factor authentication by requiring a hardware security key as one of the two factors instead of a verification code from another Apple device.
Apple does not plan to release its own hardware security keys. The feature will rely on third-party security keys available from brands like Yubico, such as the YubiKey 5Ci, which has both Lightning and USB-C connectors for use with iPhones, iPads, and Macs.
HomePod Handoff Prompt

As noted by Max Weinbach on Twitter, the first iOS 16.3 beta added a new prompt to transfer/hand off music from an iPhone to a HomePod. Only the prompt itself is new, as the HomePod audio handoff feature already existed.
Emergency SOS Settings Rewording

In the second beta of iOS 16.3, Apple has tweaked the wording for some Emergency SOS options in the Settings app to be even clearer.
"Call with Hold" is now "Call with Hold and Release," "Call with 5 Presses" is now "Call with 5 Button Presses," and "Countdown Sound" is now "Call Quietly." The descriptions for each have also been updated. "Call Quietly" is toggled off by default, which is equivalent to "Countdown Sound" being toggled on.
Popular Stories
Apple Just Broke a Tradition It Held for 21 Years
Apple has broken a tradition it maintained for 21 years, releasing no new Macs in the fourth quarter of the year for the first time since 2000, as previously anticipated devices like the next-generation MacBook Pro and Mac Pro models have apparently been pushed out to this year. Historically, Apple launched at least one new Mac model every year in the fourth quarter that runs between October …
iPhone 15 Pro Expected Later This Year With These 6 Exclusive Features
Apple's next-generation iPhone 15 Pro and iPhone 15 Pro Max are expected to be announced in September as usual. Already, rumors suggest the devices will have at least six exclusive features not available on the standard iPhone 15 and iPhone 15 Plus. An overview of the six features rumored to be exclusive to iPhone 15 Pro models:A17 chip: iPhone 15 Pro models will be equipped with an A17…
Deals: Amazon Knocks $599 Off Apple's 2TB M1 11-Inch iPad Pro for an All-Time Low Price
Amazon today has Apple's 2021 11-inch iPad Pro (2TB Wi-Fi) for $1,299.97, down from its original price of $1,899.00. This is the lowest price we've ever tracked for this previous-generation M1 model of the iPad Pro. Note: MacRumors is an affiliate partner with Amazon. When you click a link and make a purchase, we may receive a small payment, which helps us keep the site running. You can get…
iOS 17 Coming Later This Year: Here's What to Expect
While there are still around five months remaining until Apple unveils iOS 17, we're already able to piece together a few details about the upcoming software update based on Apple's previous announcements and reported information. Below, we've recapped everything that we have heard about iOS 17 so far. Apple is expected to announce iOS 17 alongside iPadOS 17, macOS 14, watchOS 10, and tvOS…
Sketchy ChatGPT App Soars Up App Store Charts, Charges $7.99 Weekly Subscription [Update: Removed]
A sketchy app claiming to be the ChatGPT bot has soared up App Store charts, charging users a $7.99 weekly subscription to use a service that is entirely free to use on the web and seemingly has no affiliation to the actual bot. ChatGPT has soared in popularity recently, with some calling it the "iPhone moment" for AI, given its mainstream appeal. ChatGPT can articulate short and long-form…
iPhone 15 Pro Models Rumored to Be More Expensive
The iPhone 15 Pro models could face a price hike over the iPhone 14 Pro and iPhone 14 Pro Max, according to recent reports. According to a rumor from an unverified source on Weibo, Apple will increase the price of this year's iPhone 15 Pro models to widen the gap with the iPhone 15 Plus. The extent of the potential price hike is not yet clear. The iPhone 14 Pro and iPhone 14 Pro Max start at …
iPhone 16 Pro Rumored to Feature Under-Display Face ID Next Year
The iPhone 16 Pro will feature under-display Face ID technology to provide more usable display area, according to The Elec. The Korean-language report explains that Apple will move the components required for Face ID authentication directly under the iPhone's display in 2024. When not in use, the TrueDepth camera for Face ID will not be visible under the display, which will appear seamlessly.. .
Kuo: New AirPods Max and $99 AirPods to Launch as Early as Next Year
Mass shipments of second-generation AirPods Max and more affordable AirPods will likely begin in the second half of 2024 or the first half of 2025, according to the latest information shared by Apple supply chain analyst Ming-Chi Kuo. In a series of tweets today, Kuo said Apple is aiming for a $99 price for the more affordable standard AirPods. Currently, the $129 second-generation AirPods…
Apple Reportedly Working on Touchscreen Macs, Including MacBook Pro
Despite years of resistance, Apple is now working on adding touchscreens to Macs, according to a report today from Bloomberg's Mark Gurman. The report claims that a new MacBook Pro with an OLED display could be the first touchscreen Mac in 2025. Gurman said Apple engineers are "actively engaged in the project," indicating that the company is "seriously considering" producing touchscreen…
.