Apple is streaming its iPhone purchase process with the launch of the iPhone SE, and has introduced a new buying method that allows customers to purchase T-Mobile and AT&T devices without inputting their current carrier information.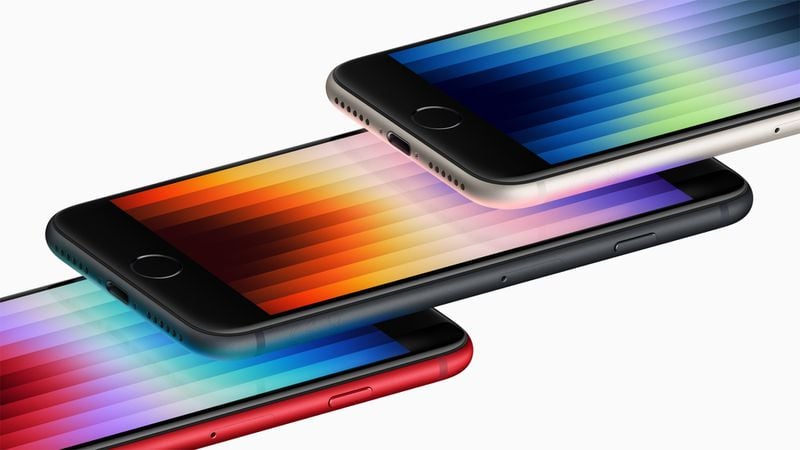 As outlined by Bloombergcustomers typically need to provide their wireless phone number and social security number when making an ‌iPhone‌ purchase, a process that allows their carrier to do a credit check and approve the transaction to ensure the person receiving the device will pay their cellular phone bill.
With the ‌iPhone SE‌, AT&T and T-Mobile customers will not need to provide their carrier information when checking out, and can instead connect when turning on the ‌iPhone SE‌ for the first time. Customers also do not need to select a network plan at the time of purchase, cutting down on carrier involvement when a person buys an ‌iPhone‌ from Apple.
Apple told retail employees that the new method is called "on-device authentication," and it makes the ‌iPhone‌ checkout process quicker. The purchase process is available online right now and will be implemented in stores on March 29.
Apple already has a "Connect on your own later" option for iPhone 13 buyers who don't want to input their information at the time of purchase, but this is apparently separate from the way the ‌iPhone SE‌ on-device authentication works. Apple also offers unlocked devices that can be purchased without a carrier association.
As of right now, on-device authentication is limited to AT&T and T-Mobile customers who purchase an ‌iPhone SE‌, but Apple is planning to expand it to Verizon and could also implement the feature for flagship ‌iPhone‌ purchases in the future to make the preorder process smoother.
Related Stories
iPhone SE 2 Discontinued, iPhone SE 3 From $429 Now Apple's Cheapest iPhone
With Apple's debut of the new third-generation iPhone SE at its spring "Peek Performance" event, Apple has dropped the previous second-generation iPhone SE from its lineup on the online Apple Store, which means the cheapest new iPhone Apple offers has gone up in price. The old iPhone SE 2 featured an A13 Bionic chip, 3GB RAM, and a low starting price of $399. It came in white, black, and…
iPhone SE 3 Reportedly Entering Trial Production Phase With Launch Set for Early 2022
Trial production of the third-generation iPhone SE is set to get underway in the near future as Apple's suppliers and supply chain increase preparation for mass production of the new handset ahead of a launch reportedly set for early next year. MyDrivers reports today that trial production, a stage in the supply chain ahead of when the device is mass produced, is set to start soon, according …
New iPhone SE Nearly as Tough as iPhone 13 in Drop Test Thanks to Improved Glass
Apple's new third-generation iPhone SE is equipped with the "toughest glass in a smartphone" on the front and back, a change that's designed to make the device better hold up to drops and scratches. Allstate Protection Plans this week put Apple's claims to the test with a series of controlled drops, and found that the third-generation iPhone SE does indeed appear to be more durable than the…
iPhone SE With Larger 5.7-Inch Display May Launch in 2023, 'iPhone SE+ 5G' Also Rumored
Apple is planning to release a fourth-generation iPhone SE with a larger 5.7-inch display as early as 2023, according to display industry consultant Ross Young, who has proven to be a reliable source of information for future Apple products. The fourth-generation iPhone SE has until now been rumored to launch in 2024, but Young now says a 2023 release is looking more likely….
Third-Generation iPhone SE Teardown Reveals Larger Battery Capacity and Snapdragon X57 Modem
The first teardowns of the third-generation iPhone SE have surfaced on YouTube, providing a look at components inside the device. iPhone SE 2 on top vs. iPhone SE 3 on bottom via PBKreviews The teardowns reveal the new iPhone SE has a larger 2,018 mAh battery compared to 1,821 mAh for the previous-generation model. The new iPhone SE offers up to an extra two hours of video playback and up to…
Apple Announces New iPhone SE With A15 Bionic and 5G Connectivity
At its "Peek Performance" event, Apple today announced the third-generation iPhone SE, featuring the A15 Bionic chip, improved battery life, 5G connectivity, a new camera system, and more, all for a starting price of $429. The new iPhone SE features the same 4.7-inch display as the current model, but now offers the toughest glass in a smartphone on the front and back — the same as on the…
Will Apple Keep the Old iPhone SE Around at a Lower Cost?
Apple is rumored to be introducing an upgraded version of the iPhone SE as soon as March 8, the prospective date of the company's first event of 2022. The new iPhone SE is expected to be priced at $399 and it will be replacing the current iPhone SE , but will Apple keep the older model around and drop the price as it sometimes does when new iPhones come out? In his most recent "Power On"…
Popular Stories
iPhone 14 Still to Boast Performance Improvement Despite Sticking With A15 Chip
The standard iPhone 14 models will still have better performance than the iPhone 13, despite containing the same A15 Bionic chip, according to leaker "ShrimpApplePro." In March, Apple analyst Ming-Chi Kuo claimed that only the iPhone 14 Pro models will feature the A16 chip, with the standard iPhone 14 and iPhone 14 Max models to be equipped with the A15 chip like the iPhone 13. In an April.. .
Apple Adds Eight More Macs to Vintage Products List
As expected, Apple today updated its vintage products list with eight more MacBook, MacBook Air, MacBook Pro, and iMac models released in 2015 and 2016. Notably, the first MacBook Pro models with the Touch Bar are now classified as vintage. Apple introduced the Touch Bar in October 2016 as part of a complete redesign of the MacBook Pro. Apple has since removed the Touch Bar from higher-end…
Intel to Introduce Wi-Fi 7 in 2024 as Apple Plans Imminent Move to Wi-Fi 6E
Intel is planning to install its next-generation Wi-Fi 7 (802.11be) technology in devices by 2024, ETNews reports. Wi-Fi 7 is the successor to Wi-Fi 6E (802.11ax), bringing two times faster data processing speeds of 5.8 Gbps and more stable 6 GHz bandwidth stability, as well as support for up to 36 Gbps when working with data. Intel plans to expand its Wi-Fi 7 development efforts ahead of…
Apple's Online Store is Currently Down in Some Countries [Updated]
Apple's online store is currently down in some countries, including the United States, Canada, Australia, France, Germany, Italy, Spain, the United Kingdom, and more. The downtime is not worldwide, with the store still operational in some other countries. "We're making updates to the Apple Store," the store page says, as usual when there is downtime. Apple advises customers to "check back…
Apple Watch Edition Begins Selling Out Ahead of Series 8 Launch
Apple Watch Edition models are beginning to sell out just weeks before the Apple Watch Series 8 lineup is expected to be announced. Several of the high-end Apple Watch Series 7 models with titanium casings are listed as "currently unavailable" on Apple's online store in the United States, Canada, the United Kingdom, and select other countries. In the United States, availability of 41mm…
Apple Expands Apple TV Gift Card Offer to More Countries
Apple has expanded a previously US exclusive Apple TV gift card offer to more countries worldwide, offering customers a gift card alongside the purchase of an Apple TV 4K or Apple TV HD. The original offer was launched for US customers last month, giving buyers a $50 gift card with the purchase of an Apple TV. Following the Apple Store going down in several countries, Apple has…
Deals: Apple Watch Series 7 Returns to All-Time Low Price of $279.99 ($119 Off)
Amazon has the 41mm GPS Apple Watch Series 7 down to $279.99, from an original price of $399.00. The only color available at this price is the Green Aluminum Case with Clover Sport Band. Note: MacRumors is an affiliate partner with Amazon. When you click a link and make a purchase, we may receive a small payment, which helps us keep the site running. At $119 off, today's sale on Amazon is a …
.