Apple sold north of 40 million iPhone 13 models over the holiday period in a record number for the company, despite industry-wide chip shortages, according to Wedbush analyst Daniel Ives.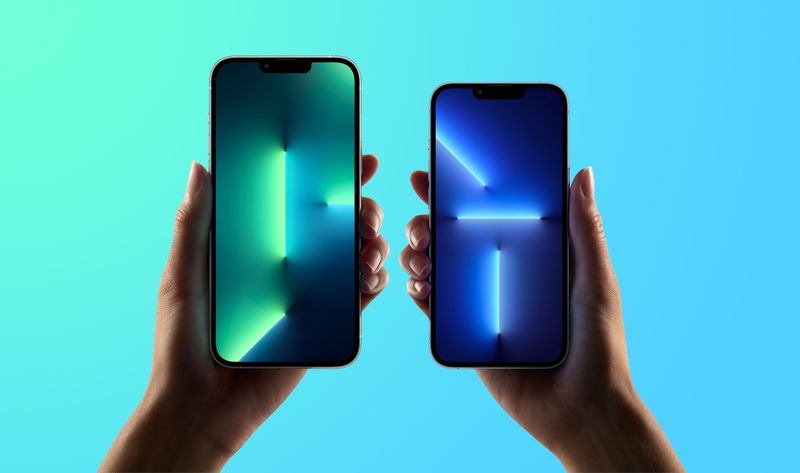 Last year, reports began emerging that demand for ‌iPhone 13‌ models was slowing down ahead of the holidays as delivery estimates for ‌‌iPhone 13‌‌ models started to improve.
However in a new note to investors, seen by MacRumorsIves said demand remained strong for the current iPhone cycle going into 2022, with demand outstripping supply be several million units in the December quarter, a positive sign for Apple as supply chain issues begin to resolve themselves in the first half of this year.
Based on our supply chain checks over the last few weeks, we believe demand is outstripping supply for Apple by roughly 12 million units in the December quarter which will now add to the tailwinds for Cupertino in the March and June quarters as the supply chain issues ease in 1H22.
According to Ives, China has been a major source of strength for Apple over the last 12 months and a key region for ‌iPhone‌ sales, particularly in relation to increased market share due to the "multi-year supercycle" afforded by the iPhone 12 and ‌iPhone 13‌.
According to Ives, roughly 230 million of 975 million ‌iPhone‌ users worldwide haven't upgraded in the last three and a half years, and the analyst believes Apple's continuing smartphone sales will provide highly influential tailwinds as excitement builds for Apple's much-anticipated mixed reality headset , which is expected to be announced in the summer.
Ives says the "linchpin" to Apple's valuation re-rating remains its services business, taking in the likes of Apple Music, iCloud, Apple TV+, and Apple Fitness+, which Wedbush believes is now worth $1.5 trillion. On that basis, Wedbush predicts that despite reports of supply constraints, Apple's chip shortages are a "transitory issue" and "nothing more than a speed bump" on the way to Apple becoming the first $3 trillion market cap company in 2022.
Related Stories
Former Apple Employee Charged With Defrauding Company of Over $10 Million
A former Apple employee involved in the company's supply chain and responsible for making order purchases and invoicing them back to Apple has been charged by US prosecutors for defrauding the tech giant of over $10 million, Reuters reports. According to court filings in San Jose, California seen by Reuters, Dhirendra Prasad, a former employee in Apple's supply chain, is facing five…
Foxconn Offers Big Bonuses to Recruit Workers Ahead of Lunar New Year Holiday
Apple's largest manufacturing partner Foxconn is again offering bumper signing bonuses to new and former workers in an effort to boost recruitment at its Zhengzhou campus, one of its main iPhone factories in China, according to the South China Morning Post. The Foxconn report claims is returning workers a signing bonus of 9,500 yuan ($1,470), in addition to a monthly income of 6,865…
Apple's Former Design Chief Jony Ive to Speak at WIRED Event Next Week
WIRED has announced that Apple's former design chief Jony Ive will sit down with Vogue's longtime editor-in-chief Anna Wintour to discuss his latest endeavors, the future of design as he sees it, and more at the virtual RE:WIRED event next week. Ive's conversation with Wintour will take place Tuesday, November 9 at 9:30 am Pacific Time. Registration for the event is free and available…
Ferrari Announces Multi-Year Partnership With Apple's Former Design Chief Jony Ive
Ferrari and its parent company Exor today announced a multi-year creative partnership with LoveFrom, the design firm co-founded by Apple's former design chief Jony Ive and fellow designer Marc Newson. "The first expression of this new partnership will bring together Ferrari's legendary performance and excellence with LoveFrom's unrivaled experience and creativity that has defined…
First Look at Apple-Style Car Design Could Come From Ferrari
The first look at how Apple could stylistically design its long-rumored car could come from Ferrari, thanks to the recent partnership between former Apple designers and the Italian sports car maker. Apple Car concept render by Vanarama Late last year, Ferrari and its parent company Exor announced a multi-year creative partnership with LoveFrom, the design firm co-founded by Apple's former…
Supplies of Apple Products to Improve in March Quarter
Apple faced significant supply constraints across all devices during the first fiscal quarter of 2022, but product supplies are expected to improve in the March quarter, Apple CEO Tim Cook told The Wall Street Journal ahead of today's earnings call. "We saw supply constraints across most of our products," Mr. Cook said in an interview Thursday as the company released its results. "We're…
Apple Designing More Functional Products Since Jony Ive's Departure, Argues Bloomberg Reporter
Apple's product design has improved since former design chief Jony Ive left the company in 2019, according to an opinion column by Bloomberg reporter Alex Webb. Webb believes that Apple has reemphasized function over form since Ive's departure from him. For example, while the design of the previous Siri Remote for the Apple TV made it easy to pick up the remote upside down by accident, a new Siri…
Jony Ive Discusses Steve Jobs, Continued Work With Apple, Wearables and More
Former Apple design chief Jony Ive is still working with Apple, he confirmed today in an interview with Vogue's Anna Wintour at the RE:WIRED event. Ive participated in a panel called "Design for the Future We Want to Inhabit," where he spoke on topics like Steve Jobs, wearables, and LoveFrom. Ive confirmed that his LoveFrom design company is working with Apple, but he did not provide…
Popular Stories
iPhone 14 Still to Boast Performance Improvement Despite Sticking With A15 Chip
The standard iPhone 14 models will still have better performance than the iPhone 13, despite containing the same A15 Bionic chip, according to leaker "ShrimpApplePro." In March, Apple analyst Ming-Chi Kuo claimed that only the iPhone 14 Pro models will feature the A16 chip, with the standard iPhone 14 and iPhone 14 Max models to be equipped with the A15 chip like the iPhone 13. In an April.. .
Apple Watch Edition Begins Selling Out Ahead of Series 8 Launch
Apple Watch Edition models are beginning to sell out just weeks before the Apple Watch Series 8 lineup is expected to be announced. Several of the high-end Apple Watch Series 7 models with titanium casings are listed as "currently unavailable" on Apple's online store in the United States, Canada, the United Kingdom, and select other countries. In the United States, availability of 41mm…
Camera Comparison: The New OnePlus 10T vs. iPhone 13 Pro Max
Android-based smartphone company OnePlus today announced the launch of its newest device, the OnePlus 10T, which we were able to check out ahead of time. The OnePlus 10T, priced starting at $649, boasts upgraded camera technology, so we thought we'd pit it against the iPhone 13 Pro Max to see just how it measures up. Subscribe to the MacRumors YouTube channel for more videos. The OnePlus 10T…
Apple Adds Eight More Macs to Vintage Products List
As expected, Apple today updated its vintage products list with eight more MacBook, MacBook Air, MacBook Pro, and iMac models released in 2015 and 2016. Notably, the first MacBook Pro models with the Touch Bar are now classified as vintage. Apple introduced the Touch Bar in October 2016 as part of a complete redesign of the MacBook Pro. Apple has since removed the Touch Bar from higher-end…
Deals: Apple Watch Series 7 Returns to All-Time Low Price of $279.99 ($119 Off)
Amazon has the 41mm GPS Apple Watch Series 7 down to $279.99, from an original price of $399.00. The only color available at this price is the Green Aluminum Case with Clover Sport Band. Note: MacRumors is an affiliate partner with Amazon. When you click a link and make a purchase, we may receive a small payment, which helps us keep the site running. At $119 off, today's sale on Amazon is a …
Rumor: iPhone 14 to Start at $799, Same as iPhone 13
Apple's forthcoming iPhone 14 base model will start at $799, the same entry price as last year's 6.1-inch iPhone 13, according to a new rumor coming out of East Asia. According to a post from the account "yeux1122" on the Korean blog Naver, Apple will not increase the price of its upcoming entry-level flagship device in order to boost sales and offset declining demand amid the global…
.